Who am I to pretend to teach you how to sew?!
My name is Julien, I am in my thirties and I discovered sewing when my daughter was born in 2015. And for 7 years, I have never stopped sewing to the point of setting up my little brand. of children's clothing: Le Papa de Jojo.
Today, I wish with this sewing blog to answer the questions I asked myself when I started sewing.
I struggled, I lost time, I sewed things upside down! But I persisted! I learned sewing thanks to tutorials, books, and especially by doing and failing.
On the program: easy and understandable tutorials! Tips for sewing correctly and material reviews, so you don't buy just anything! And good sewing tips, which I try to keep up to date so that you can make the most of them!
Couture Enfant is this blog, a YouTube channel, a Facebook page and an Instagram account (I'm also on TikTok to give the impression that I'm still young)!
Lately, I wanted to discuss sewing with passionate people who do the same thing as me (or almost), and I launched the BlaBla Couture podcast (in French :/).
If with all this, you are not progressing in sewing, you have to take up ping pong!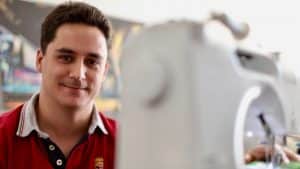 My life before
I had a life before sewing: I was a television camera operator. A very long qualifier for "cameraman". I traveled around France and the world to shoot for most of the French TV channels: TF1 with "Masterchef" and "50 minutes Inside", France 2 with "La parenthese inexpected", France 3 and France 5 with reports, M6 with "Les Reines du Shopping", "E=M6", the 12.45 p.m. and 7.45 p.m. news…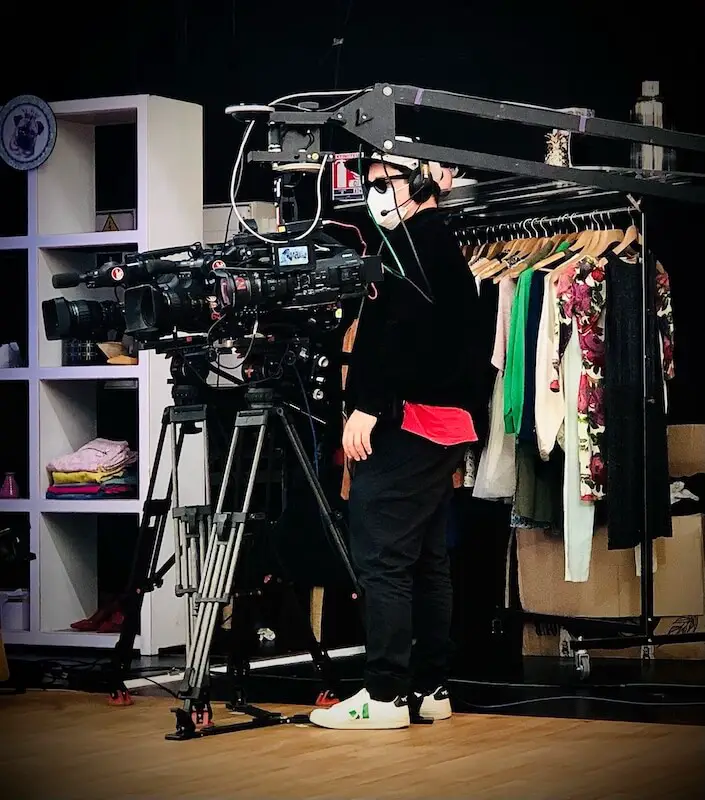 I shot a lot of nonsense for cable, too. Silly reality TV, and also sordid news shows.
It was an exciting job, but extremely demanding. I left for whole weeks with my camera on my back, and spent very little time at home.
When my daughter was born, I wanted to spend time with her, to see her grow up. I therefore considerably slowed down my pace of work, to finally only accept programs shot in Paris, during the day.
At the same time, the show "Cousu Main", presented by Cristina Cordula (with whom I worked), was on television. It was while watching this show, convinced that I was wasting my time, that I wanted to do some sewing.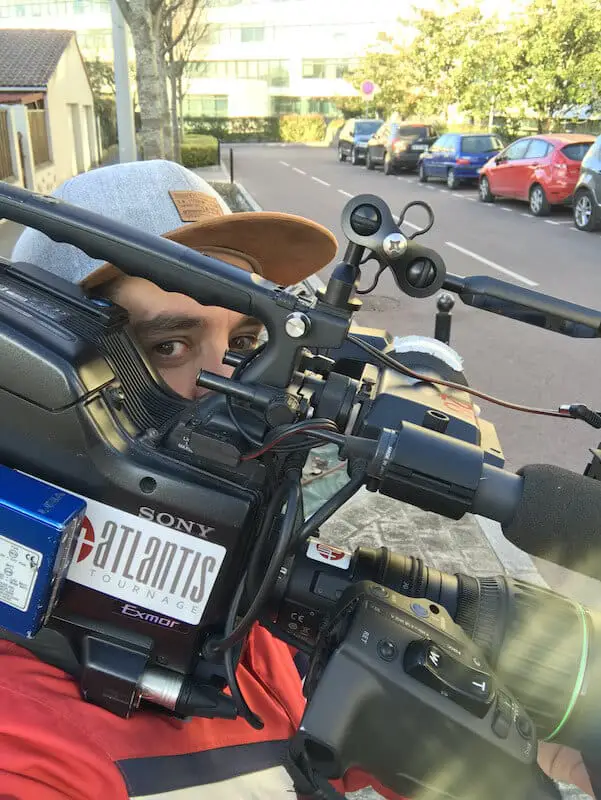 My beginnings in sewing
Temporary passions, I had a few: football, with 2 training sessions then stop; kayaking, with 6 months of practice then stop; the ukulele, which is now gathering dust in a cupboard. So I know myself. I know I can take a fleeting interest in a hobby, and give up just as quickly.
It is out of the question to buy all the necessary equipment, to spend a minimum wage to equip yourself, then leave it in a corner and not touch it again. I decide to go gradually, in small steps.
Direction the local Fnac, where I buy without thinking too much "La Couture pour les Nuls", with the idea of learning to sew by hand. Big mistake ! On the one hand, because this book is not great, and especially because hand sewing is hell!
After spending hours trying to sew by hand, I realize that I need to invest in a sewing machine. After some research, it will be the Brother FS40, which I buy online so as not to have to face the seller's gaze.
My beginnings with the sewing machine are rather serene. I'm naturally quite comfortable with devices (15 years fiddling with cameras and making connections in all directions), so I don't have any particular stress about using the sewing machine.
In practice, all you have to do is read the instructions for use carefully, or even watch a tutorial to understand the manipulation to be done. And the advantage of an electronic sewing machine is that it sews almost by itself! The settings are automated, indications appear on the control screen. In short, by being attentive, I get there without tearing my hair out.
My first seam
My first sewing project corresponds to a need: my daughter has just been born, and she spends her days sleeping (that will change later). I decide to sew him pajamas!
No question of improvising: I set my sights on a model from Burda (Burda Kids 9782 – Combination and sleeping bag). And I discover at the same time the hell of the patterns of this brand: difficult to understand and with expeditious explanations.
I struggle to trace the pattern, I struggle to sew the model. But I'm almost there. The seams aren't pretty, the finishes are to cry, but the pajamas are wearable!
And rather than move on, I decide to sew new pajamas, but with modifications. I enlarge the opening to the bottom of the foot, and I change the shape of the pockets a little.
My goal, adapt the model to my needs, and understand the principle of sewing.
After a few failures, notably due to the choice of fabric, I change the model and try to make overalls. And then everything changes!
The Adventure of Le Papa de Jojo
To sew overalls, I impose a kind of specification on myself. I need the crotch to open fully, and the straps to go on and off easily.
After several weeks of struggling, I manage to show something. First sewn in chambray, I ended up preferring cotton piqué (a kind of milleraies cotton). The model is lined, the straps fasten with press studs.
The dungarees are a great success (honestly) when worn by my daughter, and by dint of receiving compliments, with my partner, we spin a little.
Why not go into entrepreneurship, and set up our own clothing brand? After all, we know absolutely nothing about it!
No sooner said than done !
A few months later, Le Papa de Jojo was created!