Cotton Waffle Pique Honeycomb Fabric: Natural Comfort and Elegance
Honeycomb terry fabric, with its distinctive look and embossed texture evoking the cells of a beehive, is a preferred choice for those seeking both comfort and natural elegance. This unique fabric, often made from 100% cotton, offers unrivalled softness and absorbency. This makes it a great ally for linens and wardrobes alike.
Honeycomb is distinguished not only by its aesthetic appeal, but also by its functionality. Its quilted and structured structure gives it a robustness that withstands time and washing, while retaining its new look and soft feel.
When it comes to sewing, this fabric is a pleasure to work with. Whether you're an experienced seamstress or a beginner, this fabric adapts to a multitude of projects: from home accessories to fashion pieces. This fabric is a versatile choice that satisfies a desire for comfort without sacrificing elegance.
Whether you're creating absorbent towels that dry quickly, thus reducing waste, or making garments that combine style and practicality, honeycomb is a fabric worth choosing and using without moderation.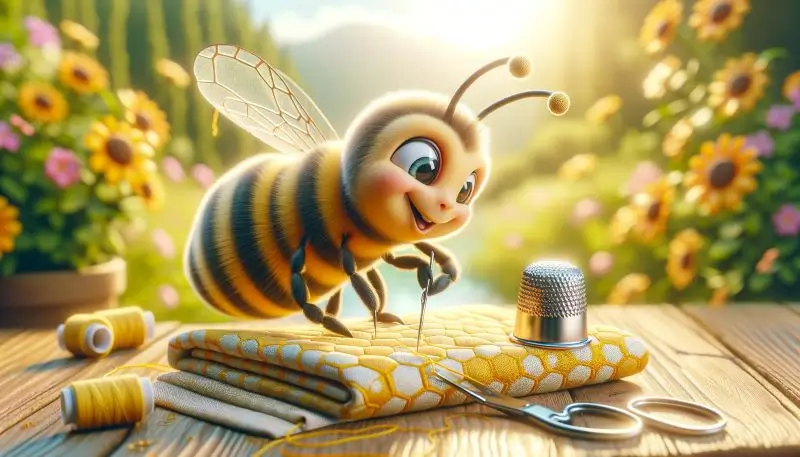 The origins of the fabric
The origins of honeycomb fabric go back centuries, when it was mainly used for its absorbency in household linen. Its name, inspired by the complex structure of honeycombs, reflects the particular weaving technique that creates a raised honeycomb pattern. This weaving method, known as "piqué gaufré", involves the use of additional warp and weft threads. These are then pulled to form the characteristic small cavities.
Historically, this fabric was made from pure cotton, giving it a natural softness and breathability, ideal for bath and bed linen. Over time, innovations in weaving techniques and materials have broadened its use. Today, it's common to find honeycomb in linen or blended with synthetic fibers to improve durability and reduce shrinkage.
The popularity of honeycomb fabric has soared over the decades. Largely thanks to its elegant aesthetic and versatility. From luxurious bath towels to casual wear, it offers texture and comfort that appeal to everyone. Its sturdiness and ease of care have also contributed to its reputation, making it a durable choice for homewares and apparel.
Advantages of Honeycomb terry fabric
Cotton Waffle Pique fabric transcends the boundaries of its traditional use to invite itself into original and practical creations. Its exceptional absorbency, combined with its soft, comfortable texture, makes it a preferred choice for items that combine utility and aesthetics.
In the world of childcare, honeycomb is transformed into enveloping bathing capes for newborns, offering softness and warmth after the bath. Parents also appreciate this fabric for nomadic changing mats, bibs and comforters. These remain soft against babies' delicate skin, yet are easy to wash and dry.
In the kitchen, honeycomb becomes an ally of choice for tea towels and hand towels. They dry quickly, reducing odors and the proliferation of bacteria! Zero waste enthusiasts make reusable sponges and washable paper towels, combining respect for the environment with attractive design.
Towels and bathrobes are also available in this fabric. Thanks to their high absorption capacity, they offer a spa experience at home. Honeycomb make-up remover wipes are another innovation appreciated for their softness and effectiveness.
Even in interior design, honeycomb finds its place with cushions and bed throws. They add a touch of texture and comfort to living spaces.
Finally, with its unique texture and breathability, honeycomb fabric is ideal for creating light, comfortable summer garments. Like airy dresses and casual shirts. Its waffle structure not only provides thermal comfort in warm weather, but also adds a distinct aesthetic dimension to fashion pieces. Designers appreciate its versatility and ease of dyeing, making it a preferred choice for trendy, eco-responsible collections.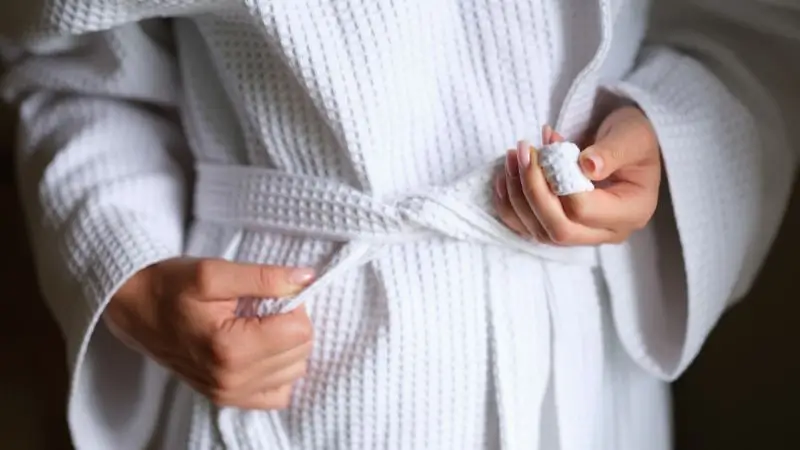 Sewing tips with honeycomb fabric
Sewing with Cotton Waffle Pique fabric can be a rewarding experience, thanks to its distinctive texture and versatility. For sewers of all levels, here are a few tips for working with this singular fabric and achieving professional results.
Fabric preparation
Before you begin, it's crucial to wash honeycomb fabric! Because it is prone to significant shrinkage when first washed. This pre-treatment will avoid unpleasant surprises after your piece has been made.
Needle and thread selection
Use a medium universal needle, size 80, which can handle the thickness and texture of the fabric without damaging it. Choose a good-quality polyester or cotton thread that matches the color of your fabric.
Machine settings
Set your sewing machine to a straight stitch with a stitch length slightly longer than normal. This will accommodate the thickness of the fabric and avoid pulling on the fabric during sewing.
Sewing techniques
When sewing, leave a generous seam allowance to prevent edges from fraying. For finishing touches, rolled hems or bias binding are elegant solutions that complement the embossed texture of the fabric.
Fabric handling
Be gentle when handling honeycomb to maintain its embossed appearance. Avoid pulling or stretching the fabric more than necessary.
Pressing
When ironing, use a steam iron on a medium setting. And avoid pressing too hard to flatten the embossed texture.
By following these tips, you'll be able to take full advantage of honeycomb's unique qualities. And create pieces that are both practical and aesthetically pleasing, whether for the home or your wardrobe!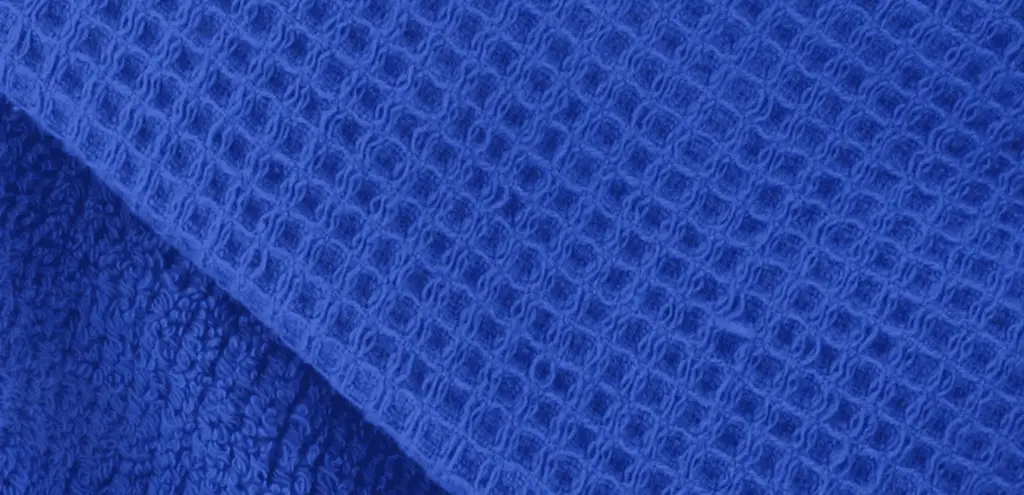 FAQ about Honeycomb terry cloth
What is honeycomb terry cloth?
Honeycomb terry is a textile recognized by its waffle-like structure, reminiscent of the cells in a beehive. Mainly made from cotton, it is appreciated for its absorbency and softness. This makes it ideal for household linen and certain types of clothing.
How to recognize the honeycomb pattern?
The right side of Cotton Waffle Pique fabric is generally more pronounced, with a more pronounced relief than the reverse side. This embossed texture is what gives the fabric its absorbent properties and unique aesthetic.
How to sew honeycomb?
Sewing honeycomb is similar to working with other cotton fabrics. I recommend using a medium-sized universal needle and pre-washing the fabric to prevent shrinkage. For beginners, start with simple projects to familiarize yourself with the texture of the fabric.
Which needle should I use to sew honeycomb?
To sew honeycomb, use a size 80 universal needle. This allows you to work through the fabric without damaging it, and to handle the embossed relief without difficulty.
---
Honeycomb fabric, with its embossed charm and versatility, has established itself as a preferred choice for sewing creations that combine comfort and elegance. Whether you're looking to add a touch of refinement to your interior, or to make cozy garments, it promises results that are both aesthetically pleasing and functional.
By mastering the sewing techniques adapted to this unique textile, you open the door to an infinite number of creative and sustainable projects.