How to sew a trick-or-treat bag for Halloween?
Halloween is just around the corner! The costumes are ready, all that's left is to sew a cute or scary bag so that the children can go and ask the neighbors for candy. This tradition, known as trick ot treat across the Atlantic, is becoming increasingly popular in France.
Here are a few ideas to add the finishing touch to your children's costumes!
Customize an existing bag
If you're pressed for time, rather than sewing a bag from scratch, opt for customization! For example, you can take an old tote bag lying around in a drawer and cover it with decorations.
You can cut out Halloween shapes from felt: witch silhouettes, a pumpkin shape, a bat, a cauldron, a ghost… You'll easily find patterns of shapes to cut out on the Internet, for example on the First Palette website.
Get creative and give your bats eyes by sewing on buttons or embroidering details with contrasting thread. These shapes are then sewn onto the bag, all around, as close to the edge as possible.
In an upcycling approach, you can also go round your closet and choose white, black or orange fabrics that are no longer in use (old sheets, clothes, costumes…) and cut out the shapes, then sew them on in the same way as the felt. You can also use fabric glue, but the result won't be as strong and the finish won't be as clean!
A DIY sewing basket
What could be more emblematic of Halloween than a pumpkin? Traditionally, pumpkins are carved for Halloween, but you can also use them as inspiration to easily sew a candy bag.
The À l'endroit couture channel offers a step-by-step guide to sewing a small orange basket decorated with green straps and a face that can be customized to make it fun or scary.
For this project, choose a thick fabric that will enable the pumpkin to keep its round shape, such as denim, thick gabardine, coated cotton… Or choose a cotton fabric reinforced with thick iron-on.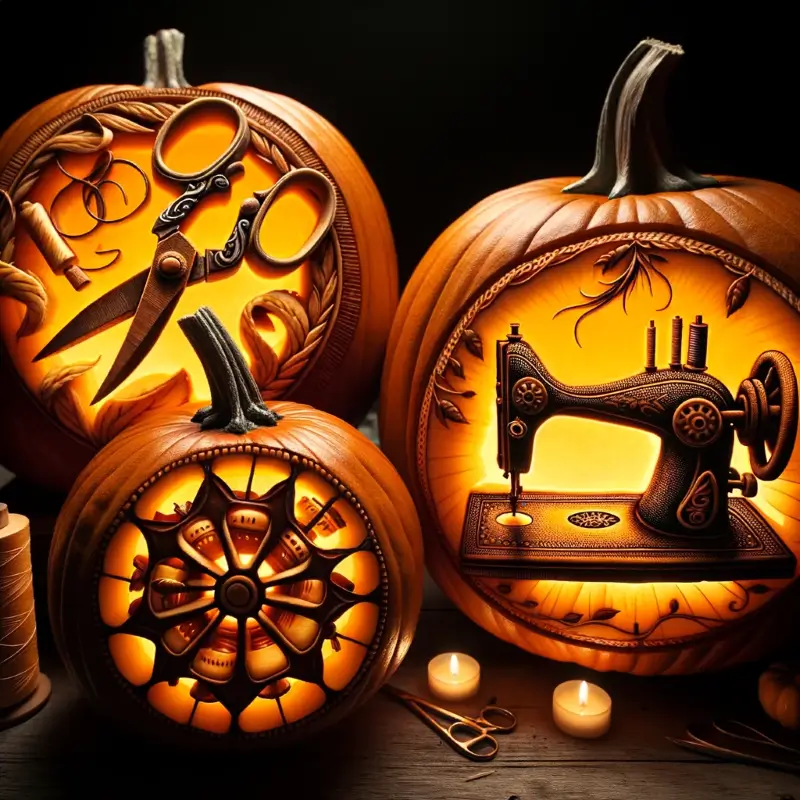 A mini-bag for the little ones
The channel 10doigts also offers patterns for mini-bags, perfect for the little ones.
Step-by-step instructions are available on their youtube channel. Once the basket or bag has been sewn, you can decorate it with felt. All you need is felt glue and paint.
It's a great idea for an activity to do with the kids during the All Saints' vacations, to keep them busy on rainy days! They can draw details on the bags or cut out the simplest elements.
A printed tote bag
If you're looking for a quick and easy project for your kids to bring home as much candy as possible, the tote bag is a great way to go!
All you need to do is sew two cotton rectangles together, hem the top of the bag at three or four centimetres and add two straps, which you can either sew yourself from the same fabric or buy at a haberdashery.
If you've never sewn a totebag before, check out Pikebou's blog for a detailed step-by-step guide. It's a great project to get you started!
If you want to go as fast as possible, you can simply choose a cotton fabric reminiscent of Halloween colors and patterns, which are very easy to find in fabric stores or online at Mondial Tissus, Craftine, Ma Petite Mercerie…
You can also sew a black or white tote bag and draw (with felt-tip pen or paint) or embroider with a contrasting color (white on black or black on white) thin or thick spider webs, which will give a very scary effect very easily. You'll find plenty of examples of spider webs on the Internet.
And for a finishing touch, you can sew or glue on plastic spiders or glue on a spider cut out of felt.
---
What about you, are you planning to celebrate Halloween? Will you be sewing costumes or bags for the kids?