Which blouse to sew for autumn?
The blouse is an autumn basic that can be worn all winter long. You can wear it with a skirt, jeans or dressier pants…
Let's take a look at some of the blouses we'll be sewing this fall 2023!
A ruffled blouse
Ruffles will be everywhere this autumn! At the bottom of sleeves, on button plackets… We're adding them wherever we can!
If you'd like to sew yourself a pretty blouse, you can use Fibre Mood's Paulette pattern, with its large ruffles from the hem to the shoulders, or Made in Me's Louka pattern.
The fabric you use will depend on the desired effect. If you want your ruffles to give the blouse a very structured, embossed effect, then you can choose a thick cotton, a chambray… If, on the other hand, you like a softer fall effect, then opt for a light viscose, a poplin…
If you're just starting out, you may prefer to sew a blouse with a ruffle to avoid the most complicated step: the collar.
For children, the Ikatee model is suitable for beginners, and for adults, the Maison Essentielle model has no collar or buttoning system… Ideal for beginners!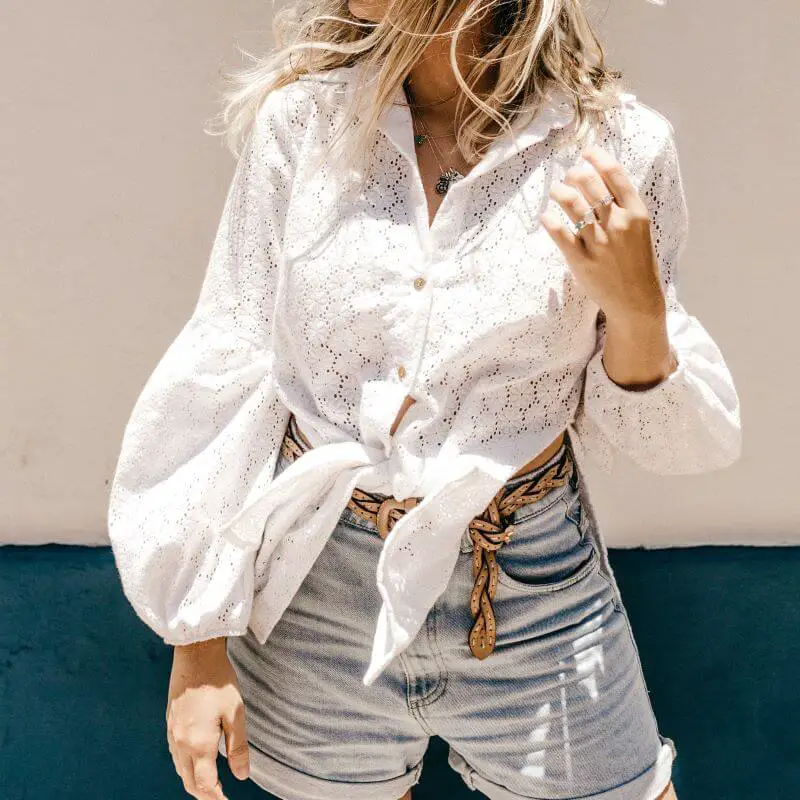 Using lace and broderie anglaise
Already very much in vogue this summer, broderie anglaise continues to be used for dresses, jumpsuits… and blouses!
For autumn, we're trying to use broderie anglaise with small enough days to avoid getting too cold, and on models with long sleeves. It can also be doubled up to avoid a sheer effect.
The above patterns work very well with broderie anglaise: this fabric gives the ruffles a romantic touch.
To show off the broderie anglaise to best advantage, we recommend slightly wide patterns like the Elo by République du Chiffon.
Fluid, satiny blouses
In autumn, we're all about fluidity and shine! We'll be looking at viscose satin, silk… These materials can be combined with other seasonal trends such as polka dots or large vertical stripes.
When it comes to patterns, choose slightly oversized models like the Sylvie pattern from République du Chiffon or the Gaïa shirt from Cha'Coud, with its slightly puffed sleeves that highlight the fabric's fall.
Be sure to take your time cutting and sewing these satin fabrics, which can be a little temperamental and difficult to keep in place.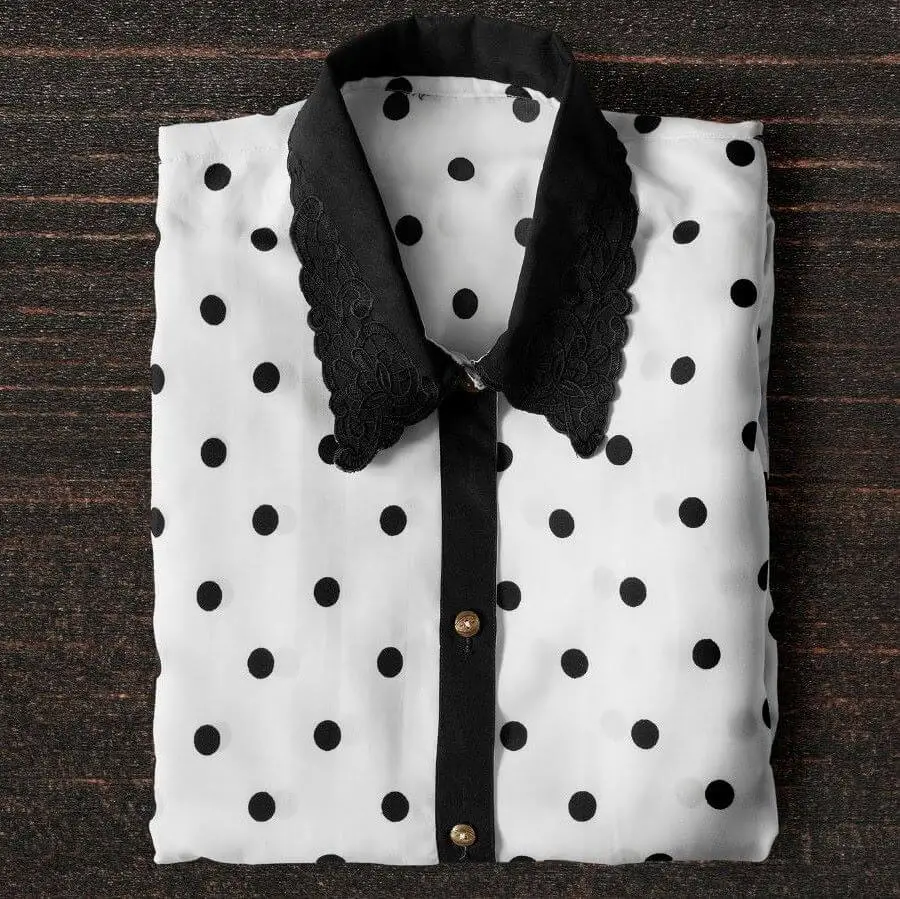 Well-designed collars
Large collars will also be very fashionable this season. With their geometric shapes, they structure the blouse and add a touch of originality.
For children, the Claudine collar has a very retro feel. As on this pattern from Laeti et Léa, which offers numerous variations.
For adults, Fabricartem's Osaka pattern lets you sew a blouse with a large pointed collar. It can be sewn with cotton, more or less thick, or linen.
The same goes for the Atelier 8 avril pattern, which can also be sewn with broderie anglaise. This time, it's a double Claudine collar to great effect!
An overshirt
The overshirt is once again very much in evidence this season, to be worn with a tank top, camisole or simple t-shirt.
If you want to combine it with another of fall's fashions, you can sew it with a beautiful tartan. Play with thickness, depending on whether you want to use it as a mid-season jacket or as a shirt.
In terms of pattern, the Axelle jacket (which is lined, so it can be worn more like a jacket) is both classic and original, with its patch pockets. All these little technical difficulties (collar, pockets…) will help you improve. Don't hesitate to get started if you've already sewn one or two easier projects!
For a pattern more akin to a shirt than a jacket, you can sew Fougère from Deer and Doe. A classic pattern that can be varied endlessly by changing the fabrics, and will look very different every time. So you're all set for the drop in temperature!
---
Which blouse are you looking forward to this autumn? What are you planning to sew?