What swimwear to sew this summer?
Swimsuits can seem like a daunting project. But choosing the right pattern and fabric can make it a perfectly accessible project! Here are a few ideas for DIY summer swimsuits.
Technical points to remember
In a previous article, we explained how to sew your own swimsuit. Here are a few tips to keep in mind:
Fabric: Choose a fabric that's water-resistant, not too sheer and, above all, elastic! A two-way stretch lycra with at least 10-15% elastane is ideal. The level of elasticity required is often indicated in swimwear patterns. Please note that this is not the same as the elastane percentage! To calculate the elasticity of a fabric, use this simple tutorial from Anad.
The lining: It's very important to line your swimsuit so that it's stronger and less transparent when wet. Most of the time, we use "Claudia foam", which is easy to find online.
The sewing machine: You can sew your swimsuit using a serger. If you don't have one, you'll need to invest in a stretch needle for your sewing machine and systematically use an elastic or zigzag stitch. Polyester thread is more resistant. Lycra is not the easiest fabric to work with, so you'll need sharp scissors. To sew it on, you can use tissue paper to prevent it from slipping too much.
Elastics: To sew a swimsuit, you need elastics to prevent it from yawning all over. Look for rubber laminates that are water- and wash-resistant.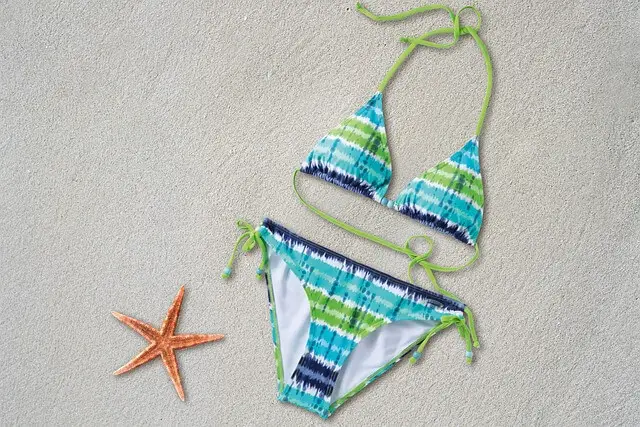 Pretty swimsuits for summer
French brand Lise Tailor has released a number of swimsuit patterns this year. The good news is that Lycra and foam are also available, making the task much easier.
Two models are available, each with its own variations. The Hello Sunshine swimsuit is a two-piece with a triangle top to tie around the neck. Bain de minuit is a one-piece swimsuit with a low neckline and a bow in the back. For each of these models, you can choose from the lycra and linings available on the boutique. It's impossible to go wrong when choosing your fabric.
Beware, however, that these swimsuits include many technical points. Wait until you've acquired a good level of sewing skills before taking the plunge!
For beginners, the Marilou studio pattern is the best choice. It's a two-piece swimsuit with an asymmetrical top. Again, you can buy it as a ready-to-sew kit and choose your own colors, so you'll have all the materials you need at hand. To keep up with the season's trends, opt for a vitamin-rich color like lagoon blue, sunshine yellow or Camellia red.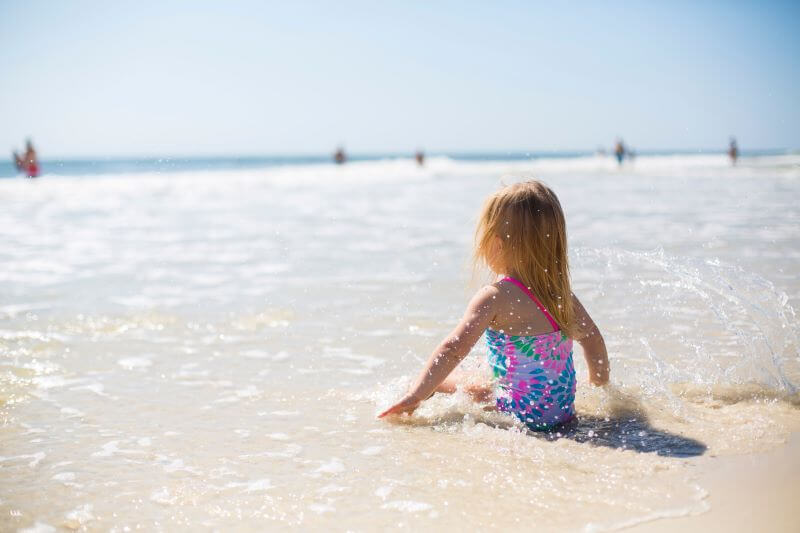 Swimsuit Patterns for Children
Children can also sew jerseys, which are often simpler to make. For example, you can follow the Ikatee pattern (which can also be used as an underwear set, making it doubly profitable) using stretch Lycra.
For children, you'll find UV-resistant lycra to protect them from the sun this summer. A little more technical, the Paulette pattern, from the same brand, is suitable for children aged 3 to 12, and offers many variations: one or two pieces, with or without cut-outs, with or without ruffles… You can also add buttons, piping or pretty ruffles on the shoulders. Here again, be sure to choose the right Lycra.
And for men?
There are also swimsuit patterns for men, like this one from Ma petite mercerie, which is sewn in lycra with a flat elastic waistband. It's also possible to sew a pair of swim trunks, like Marin's from Étoffe malicieuse. Here, you won't need stretch lycra, but a fabric for swim shorts, often found under this name online, and mesh lining for the inside.
---
Have you ever sewn swimwear for the beach or pool?