I sew my gardening accessories!
Do you love gardening, or have friends who do? We'll show you how to sew personalized accessories for yourself or as gifts!
An apron to store your tools
An apron is an essential accessory for any gardener, whether a beginner or an expert! It allows you to store all your tools: pruning shears, gloves… and to avoid staining your clothes with soil. It also makes a lovely gift if you have friends who love gardening.
To sew a gardening apron, first choose a sturdy fabric. This accessory will need to be washed regularly. You can opt for thick, dry denim, jute, upholstery linen, coated cotton, thick canvas…
To personalize them, simply sew the pockets with different fabrics: printed cottons or contrasting colors, according to your taste or that of the person who will be wearing them. Don't forget to overcast the edges of the fabric to prevent damage.
To sew a gardening apron, you can start from a kitchen apron pattern and personalize it by enlarging the main pocket or adding storage compartments. Adding a pocket couldn't be easier: simply take a square or rectangle of fabric of the desired size, press in at 1cm, then sew three sides of the pocket to the apron. You can follow this simple pattern from Made in Tissus.
If you're looking for a more elaborate pattern, Tissus Hemmers' free pattern features an apron with lots of pockets and practical rings for hanging pruning shears. The pattern is sewn with canvas fabric and leatherette pockets, but you can adapt it with the sturdy fabric of your choice.
The Japanese apron is also very practical and ideal for gardening. It's an apron that slips on like a dress, is wide at the front and closed at the back by two strips of fabric. Pockets can be added to make it more practical for gardening.
Numerous tutorials are available online, such as Nathalie couture easy (free) or l'arbre à Cousette.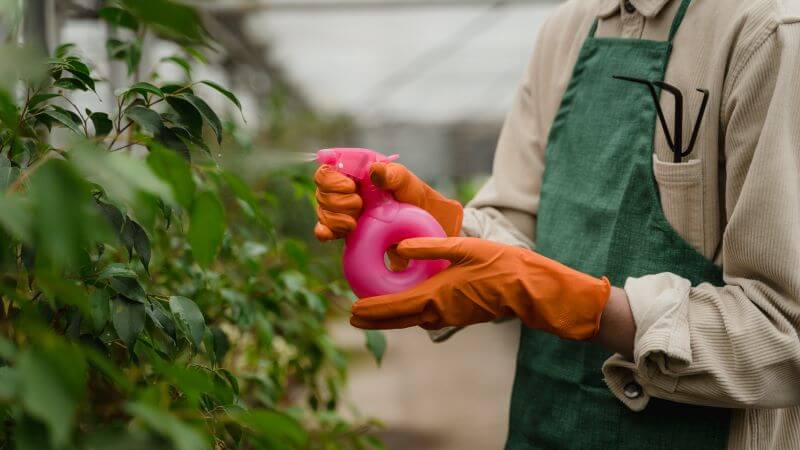 A gardener's belt
To complete or replace the apron, you can also sew a gardener's belt. As the name suggests, it attaches at the waist and, thanks to its many pockets, allows you to store your tools and seeds so that your hands are free when you're working the land. It's a highly customizable project.
Depending on your needs, you can add more pockets, vary the fabrics, add storage compartments to the size of a particular tool… Start by listing what you'll need to store in order to optimize this accessory!
Once again, choose a sturdy, supportive fabric that will stand up well to being used mostly outdoors. You can then easily vary the colors.
This model from Ma petite mercerie uses deckchair fabric and a sturdy strap. For a softer look, sew jute or coated cotton. And as with the apron, you can personalize this project with colored bias tape, different-colored pockets…
An accessory bag
Whether in the garden or on the sewing table, it's easy to lose your tools! This is the perfect opportunity to sew a pouch to hold your hoe, pruning shears or a towel to wipe your hands…
You can start with this simple, free pattern from Perles and co. All you have to do is adapt the size according to how you intend to use your drawstring bag.
For a country look, use a quilted fabric, linen or coated cotton for easy stain removal. If it's a gift, you can also customize it by adding embroidery.
You can also make miniature versions of these bags. They'll come in handy for storing seeds, giving them as gifts or exchanging them with friends or neighbors. Once again, you can decorate them with printed cotton or embroider the name of the seeds. Let your imagination run wild!
---
Have you ever sewn gardening accessories?