What to sew for a zero waste picnic?
The picnic season is open! The first days of sunshine always make you want to set up a tablecloth, some food, and enjoy a good meal in a park, on the beach or in the middle of nature.
The opportunity to use your fabric scraps to sew napkins, a tablecloth…
Here are a few tips from sewers to organize zero waste picnics!
Sew a picnic tablecloth
To sew a picnic tablecloth, use a thick cotton or linen, or a coated cotton that will make it more waterproof and will allow to clean it more easily with a simple sponge.
It is possible to sew a tablecloth simply by hemming along each side. We cut the tablecloth in a square of the desired size, then we make a first fold at 0.5cm that we mark with his iron, before folding again the hem on itself. We then stitch along each side to 0.3cm.
If you want to go the extra mile and make a more complex but sturdy picnic tablecloth suitable for outdoor dining, you can sew a double-sided tablecloth.
One side in polar and one side in waxed fabric. You can use it to sit or to put food. To make it, follow the tutorial of La Belle Adresse which thought of everything since the tablecloth detaches in two for easy washing.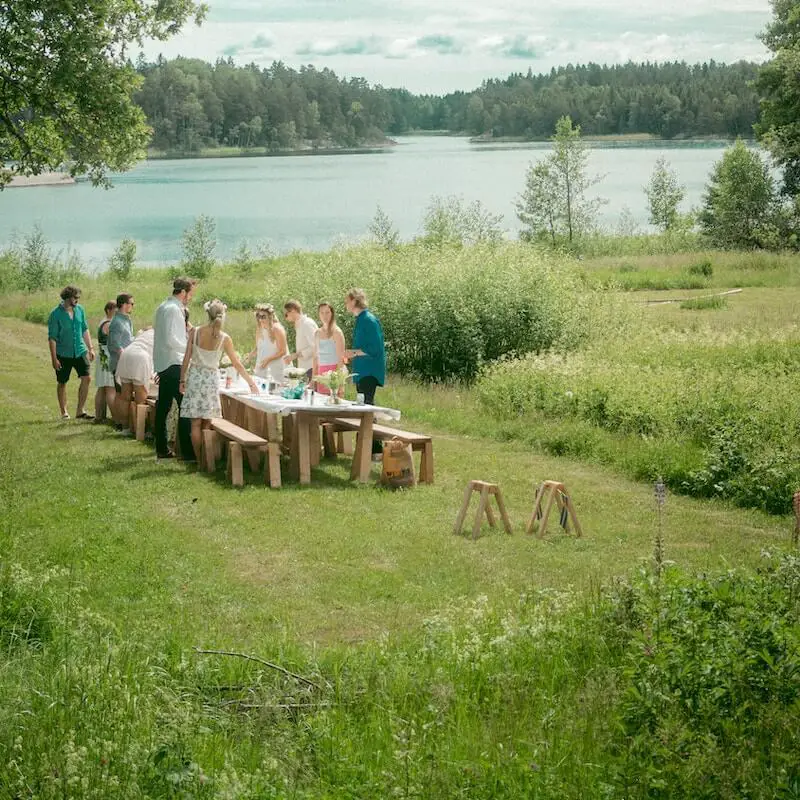 Towels for the whole family
We often forget to bring towels to the picnic and end up using paper towels or tissues. Why not sew special napkins for these occasions, to be stored with the picnic tablecloth?
To avoid buying fabric for this purpose and to be consistent with the zero waste approach, you can use fabric scraps. Just like the tablecloth, you come to cut 17,7″ x 17,7″ squares of fabric (or less, depending on your scraps) and either hem them on the side, or do a simple overstitching.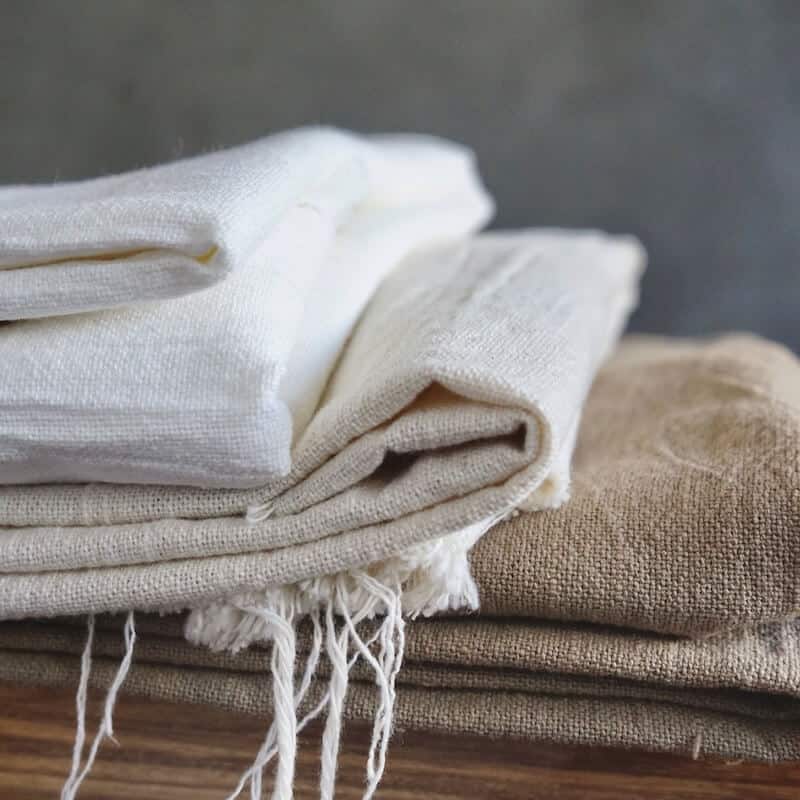 Beeswax wrap for sandwiches
Do you know the beeswax wrap? They are a sustainable alternative to disposable packaging such as aluminum foil or cling film in which we wrap sandwiches or cheese.
To make your own wraps, simply coat a cloth (usually cotton) with beeswax or vegetable wax. Before coating them, you can hem them on the side of your rectangle or square for a cleaner result, or you can simply notch them with scissors. Again, don't hesitate to use fabric scraps that are lying around in your closet.
You can follow Another Day's tutorial to make your own reusable wrappers. All you need is beeswax glitter, cotton, baking paper and an iron.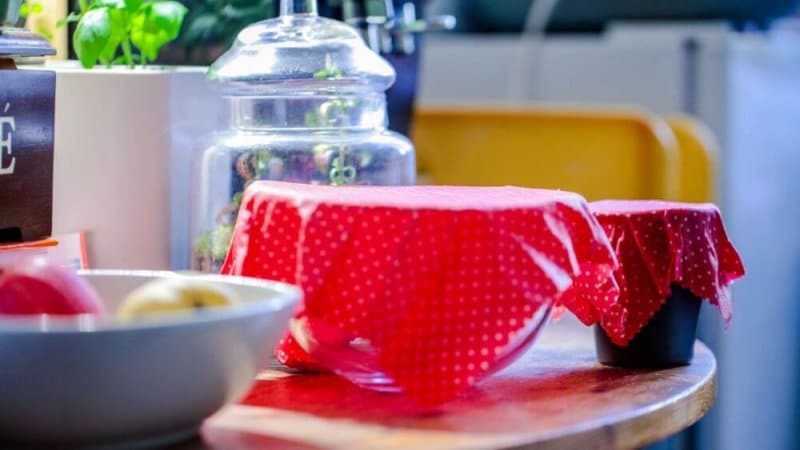 A pie bag
It is very common to bring a pie, sweet or savory, to a picnic. However, it is often difficult to transport it.
A good alternative, more durable and ecological than putting it in a plastic bag, is to sew a pie bag. This is a fairly simple and quick project that can be easily sewn with cotton, coated or not. Once you have it in your closet, you won't be able to live without it!
You can follow our home-made tutorial, for video explanations, or the one from Mondial Tissus.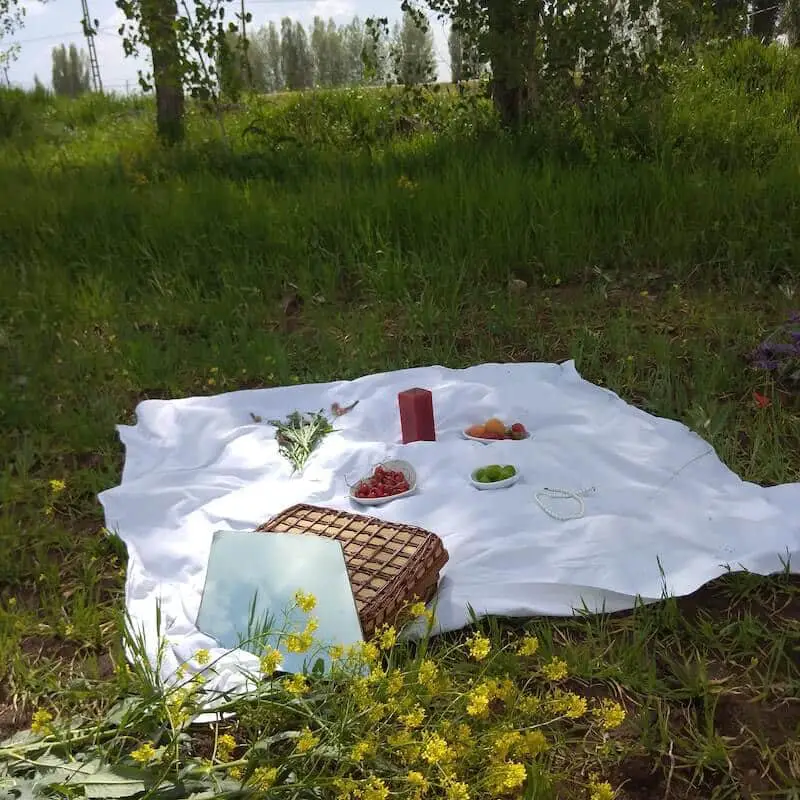 A cutlery bag
If you're going on a picnic, you might as well avoid disposable cutlery. To avoid losing your cutlery, you can use a special pouch to store it. It will prevent them from getting mixed up with the leftover sandwiches and dirty napkins at the bottom of the picnic bag. You can also use this pouch to store napkins.
You can use leftover fabric and personalize them. For example by embroidering the names of family members.
To make a lined pouch that will allow you to slip a fork, a knife, a spoon and a napkin, you can follow the Bricoles de Gwenn's tutorial. It can be easily washed : you can put your dirty cutlery in it once the picnic is over.
---
What about you, do you have dedicated picnic gear? Have you ever sewn accessories for eating outside?