How to sew a jumpsuit for summer?
The jumpsuit is the perfect garment for summer. It's a great alternative to long dresses when the temperatures start to rise.
Here are some ideas on how to sew yourself a jumpsuit to get ready for summer!
A linen jumpsuit
If you want to sew a jumpsuit for summer, you can opt for a linen piece.
Linen is a light, breathable, fairly fluid and soft material that will work very well for this project. However, you will have to be careful with the linen you choose: some of them are very thin and therefore a bit transparent, which can be disturbing depending on the desired result.
Be sure to check the weight of the fabric if you buy it online and run your hand under the fabric if you buy it in a store. If you want it to wrinkle less, you can choose a blend of linen and cotton. And don't confuse it with upholstery linen which will be way too heavy for this project!
Linen has the advantage of being quite versatile. If you choose it in a natural color (beige, brown…), it can give a country look. If you choose a colored or black linen and a little shiny, it will give an elegant result.
As for the pattern, choose models that will highlight the natural drape of the fabric like this combination from Burda or the one from Coralie Bijasson.
Linen will also be perfect to dress teenagers and will allow them to stay cool when temperatures rise. We can opt for the pattern of New Look.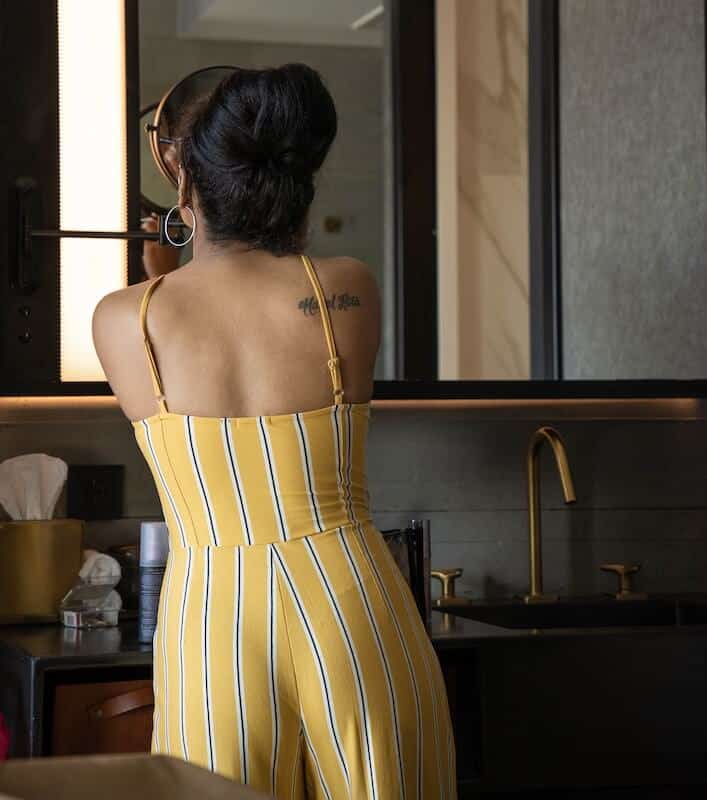 A fluid jumpsuit
If you like jumpsuits with a more fluid fall, we can opt for a fabric like viscose, lyocell, silk (which is more expensive than synthetic alternatives) or satin (we find silk satin, cotton satin, polyester synthetic satin…). If you choose silk, then the garment will have a shiny appearance and can be used as an outfit for an evening, a wedding…
For this kind of combination, we choose wider models, which will highlight the fluid drape of the fabric. For example, you can choose the Coco au bord de l'eau model from Couture Générale, a pattern halfway between a dress and a jumpsuit, the belted model from Lise Tailor or the more formal one from Cha'Coud.
Be careful to take your time when sewing fabrics like viscose: they tend to slip. Don't skimp on the sewing clips so that nothing moves!
A casual suit
The jumpsuit is also an ideal garment for going to the beach, walking under the sun, or simply lying by the pool.
To make it a casual garment, we choose an all-purpose fabric: a cotton double-gauge, a cotton poplin, a cotton voile… Cotton has the advantage of not being too sweaty, of being pleasant to wear and of holding up well to washing.
For example, you can sew the McCall's jumpsuit which, with its 70's look, will be perfect for the summer. Choose a colorful or floral cotton to push the hippie look.
For children, choose the Boulevard Guist'hau jumpsuit, which can be sewn as pants or shorts.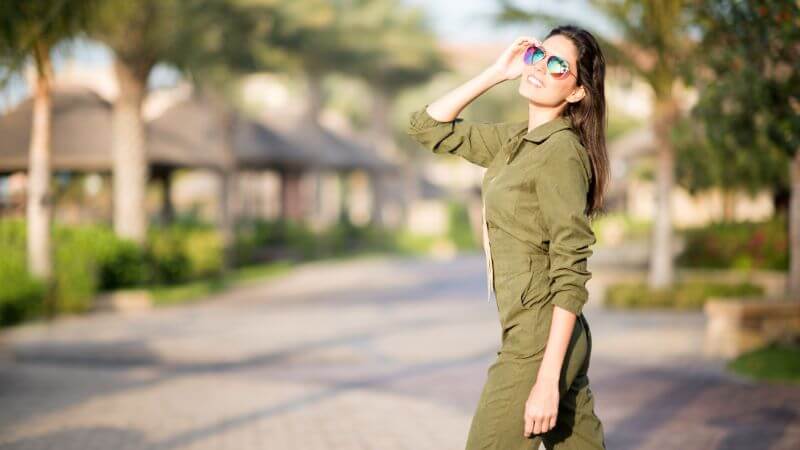 A denim suit
Denim is always in trend this season, so we take advantage of it! We choose a thin denim or blue chambray.
To give a "blue work" effect, which is also very trendy this summer, we can also opt for a thicker denim. Be careful though, the garment will be warmer!
The combination of Aime comme Marie, Aime comme Mermoz, will give a chic and casual side. To emphasize the feminine blue-work side, Ready to Sew's model, the Jean-Paul jumpsuit, will be perfect. Here, it is sewn with a thin chambray to avoid being too hot in the middle of summer.
For very hot days, you can also sew a jumpsuit with a light denim. The Marieke pattern from Ikatee is available in pants or shorts. Bonus: it allows you to sew a jumpsuit for children and adults. Enough to dress the whole family!
---
And you, have you ever sewn a jumpsuit? Which model appeals to you?